Joni Tormala On The Gasly Effect And His Infamous Moustache Wager
A 2019 Red Bull man, now flourishing with AlphaTauri. Pierre Gasly has consistently punched well above his weight in 2020, even without considering his sensational maiden victory at Monza. And while he's not hit the top step of the podium in 2020 so far, Esports racer Joni Tormala has followed a remarkably similar trajectory.
We grabbed a quick chat with the Scuderia AlphaTauri Esports driver in between Events 2 & 3 to check in after a highly successful first half of the season.
"I don't mind being compared to Gasly!" He began.
"If I'm compared to him, it means I'm doing a good job, because he's been amazing this year. Monza is coming up for us too, so that would be the perfect storyline."
While Tormala hasn't troubled the podium yet in 2020, he has run comfortably at the front of the pack and has twice finished in an impressive P4. With the might of Red Bull Racing Esports and Alfa Romeo Racing ORLEN F1 Esports Team occupying the top four positions in several races this year, these performances can't go unnoticed.
"I'm quite happy about my season so far. Going into this season I wanted to be consistently in the points, which I've managed to do in every race, except for Austria which went really bad! But it's been an improvement from previous seasons. I can be happy about it."
As for the prospect of winning? Commentators Alex Jacques and Matt Gallagher are quick to mention Tormala's moustache bet whenever he's on screen, asserting that he once said he would not shave until he wins a race. So, what's the deal?
"Ha – when I said it, I meant the championship," he laughed.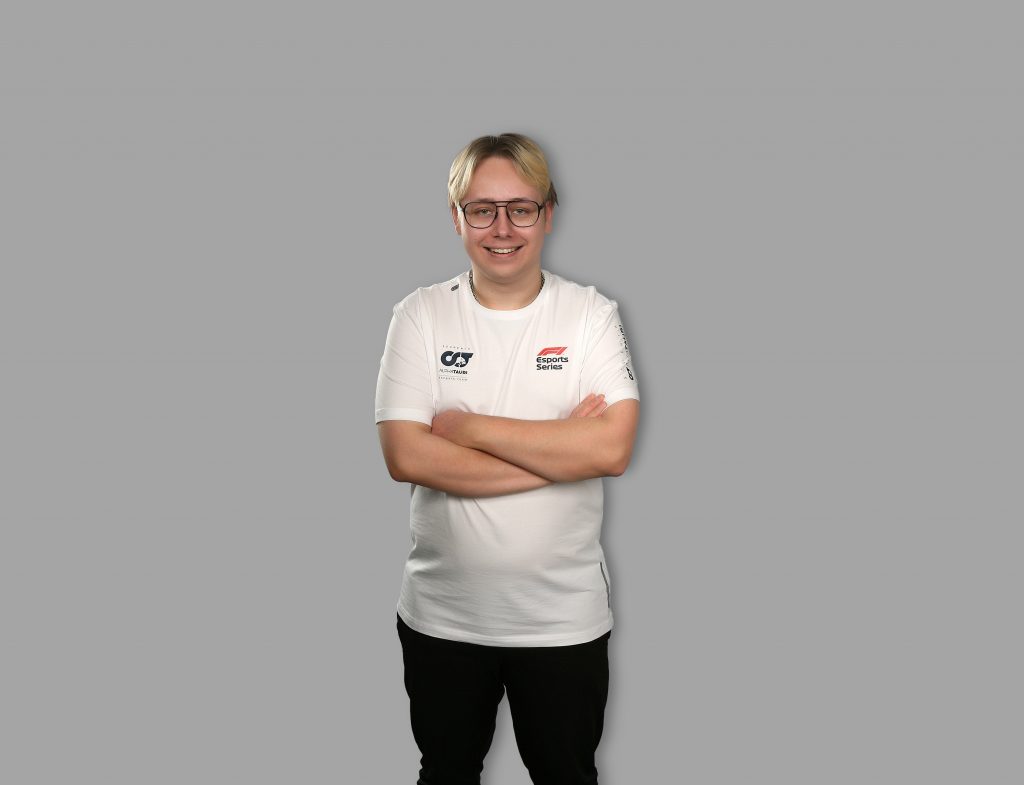 Tormala in his non-moustached form
"So when we clinched the title, I shaved my moustache off right away. I don't have one at the moment, I think it brings bad luck to me, because since I've shaved it off, I've got way better results!"
2020 VISION
Working from home. The new normal. Zoom. Yadda yadda. The now-ubiquitous trope of opening a paragraph with some self-aware perspective of how strange 2020 has been is a trap difficult not to fall for. This paragraph is a bit too meta. In any case, the changes that have affected everyone in the world have of course bled through into the 2020 F1 Esports Pro Series. And just like a COVID test, there are positives as well as negatives.
"At home it's much harder to get into the tunnel zone. In the arena, you're only focusing on your monitor, so you can ignore everything else that's happening around you. I think the pressure if higher because of that.
"I really hope we can go back to the arena next season for sure. The atmosphere is great"
The immersive and iconic Gfinity Arena is a diamond standard base for competitive esports, but as Tormala admits, it's not somewhere you can sneak in a quick snooze…
"When it's a long day, if you're at home you can relax, you can even have a nap in between sessions if you want to. I haven't done that, but I know some people do!
The setting isn't the only new change for F1 Esports in 2020. A bespoke Esports build, 35% races, and four streams per event (instead of just one) have made quite an impact. But it's the hour-long qualifying sessions that Tormala has focused on most.
"The new qualifying format makes a big difference. I think the three sessions suits me better than the one before."
Mirroring the on-track F1 sessions, qualifying is split into three segments of 18, 15 and 12 minutes respectively, the sessions are streamed live in their entirety on Twitch and YouTube. The format has seen some big scalps already. Most notably, Dani Bereznay was knocked out in Q1 in Hanoi – and Tormala himself had a Q1 exit in Spielberg.
"I made Q3 in the first four races, which I was really happy about. But in Spielberg I got my laps invalidated because of track limits, which happened to the real-world drivers too this year.
"You have to have the right approach too. If you do your best, just be happy with it. If it's P4 great, if it's P17, try again next time. The gaps are so close that it just naturally happens, sometimes you are not up there. There are only three guys who have got to Q3 every time. Of course you're disappointed if you don't make it, but it's not the end of the world."
MAKE IT REIGN
What ever happens in 2020, Tormala is already a champion. Red Bull Racing Esports scooped the teams' title last season, and Tormala was part of it, along with Frede Rasmussen, and Nicolas Longuet. It's mathematically improbable that the fast Finn will have the same honours this year, but he looks back on his old team fondly.
"We had the goal from the beginning of the year to get the title," he said.
"The first event was a big struggle for me; I only scored one point across the three races. But from then I stepped up, and Frede started getting really consistent results. It was amazing to clinch the title with one race to go at the final event – and a big relief!"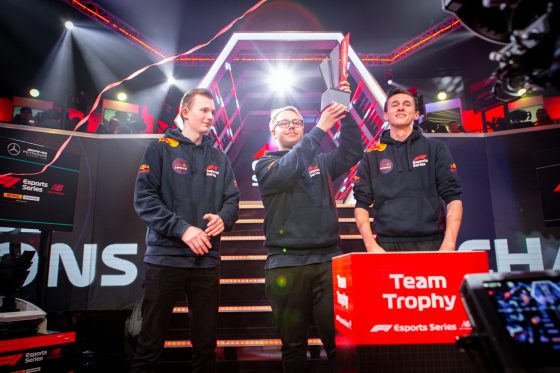 Tormala lifts the 2019 Team Trophy alongside Frede Rasmussen and Nico Longuet
The trio of Rasmussen, Tormala and Longuet amassed a cracking total of 246 points last year. However they're on track or obliterate that record this time round, with Rasmussen and Marcel Kiefer netting an average of 15 and 16 points per race respectively. Tormala was full of praise for the man who replaced him, though.
"Marcel is a great driver, and he fits the team perfectly. I was kind of expecting the move, it wasn't a huge shock to be honest. You would maybe expect that you stay when you win the teams' title, but it's not the end of the world to me.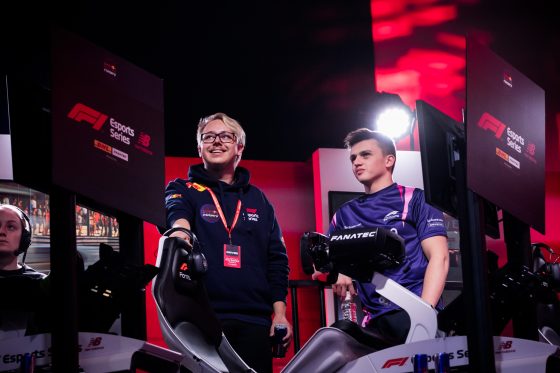 Marcel Kiefer and Joni Tormala have both enjoyed huge success in their new teams in 2020
So will it be one of his former team's drivers on top at the end of the season? Well, it's a tricky question to answer…
"Jarno has been so consistent, with a podium in every race. It's a tough call, I would like to say Marcel or Frede will win because of the Red Bull family, but I don't know! If nothing happens to Jarno I think he's in a good position.
"All three of them can do it – if something goes wrong for one of them, that's when it gets exciting."
WE'RE HALFWAY THERE
It seems like just yesterday that the 2020 F1 Esports Pro Series kicked into gear. But with six races now in the books, we've hit the halfway point of the season. After modern tracks and new inclusions in the opening two salvos, the remaining tracks are all classics from the ages.
"I love Spa. I love Suzuka. And I love Interlagos." Said Tormala.
"My goal in the final six races is to keep scoring points consistently to help the team, and to get top five in the drivers' standings. It would be nice to get a podium too – I did that in 2018 and 2019 so it would be nice to continue that."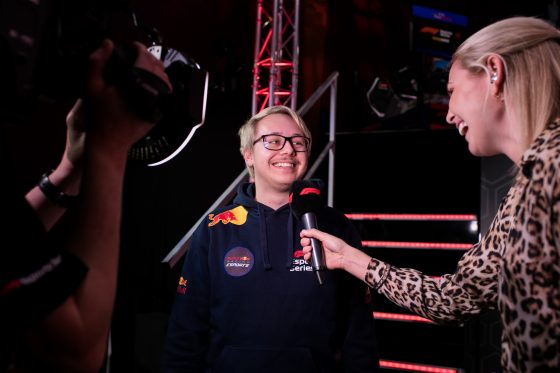 Joni Tormala chats to Rosanna Tennant after his Hockenheim podium
Just the one trip to the rostrum for the Finn in 2019, at the German round of the championship in Hockenheim. That was Round 7, and so with the second half approaching for this year, Tormala could be about to hit his stride. By this point in 2019, Tormala sat on a haul of 17 points. This year, he's almost doubled that, with 33 – so the penultimate event could be happy hunting indeed.
"My goal before the season was to be in the top five. I'm quite close to that at the moment," he continued.
"As for the team, I think we're quite close to Renault. So in an ideal world, I would say I hope we can take P3. But if we can stay where we are that would be a great result. We were ninth last year so it's already a huge step up."
The championship is well under way, and we'll get a clearer picture next time out as we embark on three more races. Join us for our first stream of Event 3 on Wednesday November 18, live on Twitch and YouTube from 1530 GMT. Then you can catch out first pair of races later in the evening at 1930 GMT, on Twitch, YouTube, Facebook and on TV with our select broadcast partners.
The post Joni Tormala on the Gasly Effect, and his Infamous Moustache Wager appeared first on F1Esports News.
Read More
Gamble Now